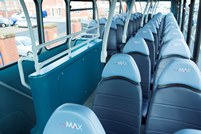 Regional Managing Director for Arriva North East and Yorkshire, Nigel Featham, talks to Andy Izatt about MAX – a new brand for inter urban services
Arriva North East and Arriva Yorkshire have announced the launch of MAX, a new brand developed in conjunction with Best Impressions for interurban services. Like Sapphire, and building on what has already been learnt from that brand, MAX is being backed with high profile marketing and higher specification vehicles. It also incorporates tailored training packages for all drivers.
MAX is to be introduced on 14 of Arriva North East's interurban services encompassing around 70 vehicles and an initial four routes in Yorkshire which lend themselves to the upgrade using another 35 buses – all double-deckers. It's the latest stage in a programme of enhancements that have already seen timetable and punctuality improvements introduced on the routes to deliver high levels of service reliability.
The MAX specification includes free WiFi and high backed E-leather seats on the vehicles, enhanced customer service training for drivers and a no quibble money back guarantee. While some routes will use refurbished buses, others will receive new vehicles including two of the four Yorkshire services. Some routes are expected to see frequency enhancements.
Offering free on board WiFi supports Arriva's app which was launched first in Arriva North East's area in January followed by Arriva Yorkshire. Just one of the benefits is that users can see the location of their bus in real-time and there were 150,000 downloads before it was rolled out nationally from the end of May. There have now been a quarter of a million downloads.
The first MAX route to be launched was Arriva North East's X10/X11 between Blyth and Cramlington, which was unveiled in Newcastle on Monday with buses entering service the following day. 12 Wrightbus Gemini Volvo B9TLs have been refurbished and carry the strap line 'Quick links'.
Arriva Yorkshire's 268 (Dewsbury – Bradford) follows tomorrow (Thursday) with a launch in Bradford Centenary Square. That service uses 12 refurbished ADL Enviro400s carrying the strap line 'Grand Yorkshire Connections'. Both events feature Titan the Robot. Titan has performed at a variety of public events including the Commonwealth Games, Children in need an appeared live on stage with pop star Rhianna.
Further upgrades by Christmas will include X15/X18 (Berwick – Newcastle), X14 (Thropton – Newcastle) X26/X27 (Catterick – Darlington), X66 (Middlesbrough – Darlington) and X93 (Middlesbrough – Scarborough – Whitby), the rest following in 2015.
MAX is being introduced alongside further Sapphire upgrades and once all are in place, around a quarter of Arriva North East's fleet will have been enhanced. Based on the positive customer reception given to the initial four Sapphire services around the country where there has been 10% growth despite quite different demographics, both brands are expected to quickly generate strong ridership growth. The business case for Sapphire was based on a minimum 9% passenger growth to cover the costs of the upgrade – 6% in year one and 3% in year two.
"The standout feature of Sapphire is that it has worked everywhere we have introduced it," Nigel Featham, Regional Managing Director for Arriva North East and Yorkshire told CBW. "And the surge in custom has come almost straightaway. Those 50 vehicles on the initial four routes launched in 2013 are now being joined by 140 buses on another 11 services being rolled out in 2014. Once that's complete, Sapphire routes will have a combined turnover of £30m, and will be adding around £3m of new business. There will also be more Sapphire routes next year."
Turning to MAX, Nigel said: "MAX offers a great package of benefits for travellers. We believe it will be a huge hit, but it's a rather different product to Sapphire, which is marketed as a premium service. Whereas MAX is intended to help market a wider network and emphasises the quick, frequent nature of the routes and provides a very modern and fresh feel."
Nigel explained that MAX is just one of a number of initiatives that have and are being rewarded by passenger growth, all the more notable in the north east where economic conditions continue to be challenging. The new brand is being supported by leaflet drops, an aspect of Sapphire successful marketing strategy.
"We're seeing lots of examples of growth in the north east," he said. "These have come on the back of excellent service delivery, investment in new buses, lots of work to strengthen the network with improved frequencies and simplified route patterns and fares initiatives as well as Sapphire.
"MAX adds to the programme of measures we're introducing to develop the business with the help of our staff and in partnership with stakeholders. Now that we have started, the upgrades will be rolled out quite quickly. We're growing the market despite a depressed local economy and we're encouraged by what we are seeing. The services selected for MAX upgrades are ripe for growth and it will be interesting to see passenger reaction, which we believe will be very positive."