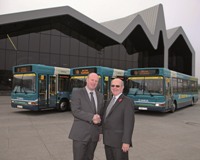 Arriva Scotland West is introducing an improved bus network for Glasgow, Paisley, Renfrewshire and Strathclyde.
Following a half million pound investment; the improvements include newer low floor buses at greater frequencies and low floor easy access across Arriva's entire Scottish fleet. Each route will also be taking on a unique identity with links to a local iconic Scottish landmark. In addition, there will also be new night services at weekends, such as a late night service from Glasgow to Erskine, Paisley and the surrounding areas, and large changes to Sunday service levels. New routes will also be introduced serving Glasgow University and Pheonix Retail Park.
Each route will take on a unique identity and link to a local Scottish landmark.
The new network was launched at the Riverside Museum (Scotland's new transport museum) on Monday, November 7.
Richard Hall, area managing director for Arriva Scotland West, said: "These improvements will make bus travel more accessible and provide a credible alternative to the car for local people.
"The improvements to our fleet will bring extra comfort for our passengers and the new appearance of our buses and timetables will make it easier for passengers to identify their bus and information."