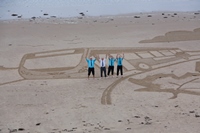 Arriva North East celebrated the introduction of eight new micro-hybrid buses for their 306 service with a giant piece of sand art on Tynemouth beach.
The art, created by company Sand in your eye, took four hours to complete and was on display to the public for only a short period of time before it was washed away by the tide.
Passengers on the 306 have been enjoying the new buses, which came equipped with free WiFi, E-Leather seating and a striking hybrid livery, from October 15.
The buses use 'micro-hybrid' technology which captures the energy generated from the bus's braking system and redistributes this energy to power hydraulic and electrical systems which would otherwise require power from the engine.
Nick Knox, Area Managing Director for Arriva North East, said: "We are very excited to be introducing this technology onto the 306 as part of our commitment to providing a sustainable bus network for the North East.
"We realise the importance of continually making bus travel better for our customers and in 2014 alone we will have invested over £11m in buses for the region. As a company we are always looking into new technologies and concepts in order to enhance the journey experience.
"These buses really are fantastic, not only are they environmentally friendly – reducing fuel consumption by up to 10%, but they also provide a smooth and comfortable ride for our customers with free WiFi, new livery and services running up to every 15 minutes."