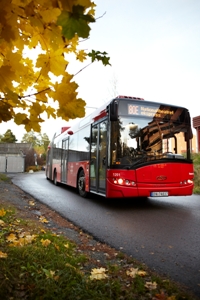 Solaris Bus and Coach, in an attempt to further lower emissions, introduce 'green' buses into their Norwegian fleet
NORWAY Five, 18-metre Solaris Urbino hybrid buses equipped with Allison's H 50 EP system are now operating in Oslo, Norway.
Solaris Bus & Coach and Allison Transmissions have been cooperating since 2006 to produce environmentally friendly buses. Solaris articulated buses are fitted with the Allison H 50 EP system, a patented two-mode parallel system, which features two 75 kW electrical motors. The electronics of the hybrid system integrate power from a 181 kW EEV-standard combustion engine with the energy recuperated during vehicle braking and stored in NiMH battery packs, achieving higher performance and reduced fuel consumption.
"The reason for choosing the Allison hybrid system is its proven performance and reliability," said Terje Bjørndalen, managing director of Solaris Norway. "Over 5,000 H 50 EP hybrid systems operate worldwide in the bus market. We know it performs, and the service support provided by Diesel Power, Allison's Norwegian distributor, is excellent."
Solaris estimates its vehicle emissions contain 25% less CO2, 32% less hydride, 56% less carbon monoxide, and 78% less particle emissions than traditional diesel power.
"Depending on the duty cycle and driver's skill, fuel consumption can be reduced by around 22 to 24%. The fleet's operational cost can also be improved as the diesel engine works under optimal conditions and is less exposed to wear and tear.
"The electrical motors operate as an auxiliary breaking system during the regeneration phase, reducing brake wear and improving safety," Terje Bjørndalen added.