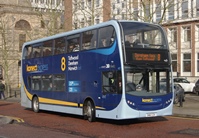 All but one Go-Ahead operator achieves a passenger satisfaction score above 90%, with a company average of 92%
Passengers have given Go-Ahead's bus services the stamp of approval, with an impressive 92% saying they are satisfied with the service.
The survey, carried out annually on Go-Ahead's behalf by independent customer watchdog Passenger Focus, found that overall satisfaction rates had improved on last year.
David Brown, Go-Ahead's Group Chief Executive, said: "Delivering excellent levels of customer service is important to us. I'm proud our bus division achieved its highest ever satisfaction score of 92%. Even at these levels, there is always room for improvement and we will continue to listen to customers and local community groups to keep on improving our services."
David Sidebottom, Passenger Focus Passenger Director, said: "The results are good news for bus passengers in the areas Go-Ahead serves. Go-Ahead should be proud of its achievements and continue to use the survey findings to identify areas where it can further improve."
Among this year's top performers are Go North East with 92% and Metrobus with 95%, a rise of four and five per cent respectively. The top performing company was Konectbus with an impressive 98%, the highest recorded score in the UK, a standard which it also achieved in 2013.
The scores for other Go-Ahead operators are as follows:
Anglian Bus – 95% (2013 97%);
Bluestar – 90% (2013 90%);
Brighton & Hove – 91% (2013 91%);
Hedingham & H.C. Chambers – 92% (2013 96%);
Oxford Bus Company – 92% (2013 92%);
Oxford Park & Ride – 96% (2013 96%);
Plymouth Citibus – 91% (2013 90%);
Southern Vectis – 92% (2013 87%);
Thames Travel – 85% (2013 91%); and
Wilts & Dorset – 92% (2013 90%).
Some indicators, which were identified as areas for improvement as a result of last year's results, have notably improved such as information provided inside buses 74% (2013: 70%), personal security 88% (2013: 85%) and helpfulness 80% (2013: 77%).
INFO
The bus passenger survey provides a comprehensive picture of customers' satisfaction with travel on Go-Ahead's bus services outside London. Further details of the survey can be found at www.passengerfocus.org.uk