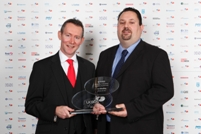 M-ticketing has generated over £1m of revenue in less than 12 months for Go-Ahead, demonstrating the way ticket retailing in the transport sector is changing.
It was first trialled at Go North East for six months before being introduced at Plymouth Citybus, More, Bluestar, and more recently Brighton and Hove Bus.
Gillian Singh, Group Marketing Director said: "Improving our retailing to passengers while they are on the move has proved a big success in our business. In the past 12 months £1m of revenue has been generated on the back of 65,000 ticket downloads. Over 45% of the apps downloaded by our passengers lead to a sale. It's clear m-ticketing as a retail channel is proving hugely popular and will continue to grow as more passengers realise how easy it is."
Go-Ahead said it's committed to improving the mobile retailing experience for passengers of both smartphones and tablets.
"It complements our philosophy of designing new retailing channels for passengers on the move, as well as the development of our recently launched fully responsive bus websites showing information in layouts that vary according to the device that accesses them. These websites mean we are starting to move away from the requirement to update both desktop websites and mobile sites with new content.
"Traditional ways of displaying timetables have been fully redesigned and built with smartphone screens in mind. Go- Ahead is also launching responsive e-mails from its CRM (customer relationship management) database as over 53% of all e-mails sent are now opened on a mobile device – compared to 12% back in 2010. Responsive designs will make full use of our integrated bus and rail CRM database which enables us to retail to four million online passengers."