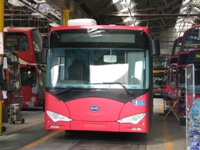 The first of Go-Ahead London General's two BYD (Build Your Dreams) pure electric buses has arrived from China and is currently being prepared at Hants & Dorset Trim, Eastleigh.
They will be trialled on routes 507 and 521 linking Waterloo Station with Victoria and London Bridge via the City, with the lease expected to continue until the end of each route contract.
TfL revealed last year that it was involved in two separate initiatives to evaluate the benefits and effectiveness of wireless charging for pure electric and range-extending hybrid buses. The first, led by Arup and the C40 Cities Climate Leadership Group would power a single range-extended electric or plug-in hybrid. The second, sponsored by the UITP International Association of Public Transport, aims to demonstrate pure electric, range-extended or plug-in hybrids using different recharging techniques.
TfL secured finding for another four electric buses in the last round of the Green Bus Fund earlier this year.