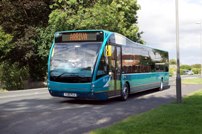 Optare has begun delivering new buses to Arriva. They are part of the contract, valued at over £6m, placed in December.
Arriva has ordered 49 Versas. Both the 11.1m version and the recently introduced low-weight 11.7m model are being supplied. A single 9.0m Solo SR has also been ordered to meet a specific contract requirement.
The contract was awarded following successful trials of Versa by a number of Arriva operating divisions. Arriva acquired its first Versa in 2007 and since then the model has featured in every annual fleet replacement programme.
The decision to order 21 of the 11.7m Versa is particularly significant as it follows on from trials of four such vehicles by Arriva during last year. The model has a seating capacity of 44, equivalent to a 12.0m single-decker, but weighs less than eight tonnes. This low weight has contributed to good fuel efficiency with Arriva reporting in excess of 10 mpg from the model on intensive urban operations and up to 13mpg elsewhere.
The 11.7m Versas are powered by the Cummins ISBe six-cylinder engines rated at 201bhp, while the 11.0m models have Mercedes-Benz 900 Series four-cylinder engines delivering 154bhp.
Optare's Deputy CEO, Glenn Saint, said: "Beginning the year with an order of this size is a major boost following a year in which we successfully completed a three-year turnaround of the business.
"Our interim results for the six months to the end of September show revenues were up by 106% and we returned to profitability in the third quarter of 2012. Registration statistics show our market share in the eight to 13 tonne bus sector was almost 34% in 2012 and we secured substantial overseas contracts.
"Winning this order shows large operators can include our products in their annual fleet replacement programmes confident in the knowledge we will deliver high quality, fuel efficient products, on time and in line with their operating needs."