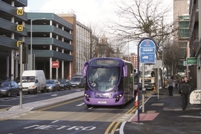 Northern Ireland transport minister Danny Kennedy has launched a public consultation on route options for the proposed Belfast Rapid Transit (BRT) pilot network.
The bus-based BRT network proposal aims to significantly enhance accessibility by public transport on preferred routes into Belfast city centre.
The Department for Regional Development (DRD) commissioned a feasibility study into the scheme in 2007 and the scheme was endorsed by the executive in November 2008.
The preferred route options for the network are:
CITI Route: From the River Lagan, the BRT will run on Queen Elizabeth Bridge, Queen's Quay and Queen's Road into Titanic Quarter; returning via Station Street, Bridge End and Queen's Bridge to join the one-way city centre loop.
EWAY Route: From a new park and ride site near Quarry Corner, the network will run on-street along Upper Newtownards Road, through Dundonald Village to Holywood Arches and via Albertbridge Road and East Bridge Street through to join the one-way city centre loop.
WWAY Route: From a new park and ride site at McKinstry Road roundabout and/ or Dairy Farm, the system will run on-street along Stewartstown Road, Andersonstown Road, Falls Road and via Grosvenor Road to join the one-way city centre loop.
City Centre: A one-way on-street loop from Queen's Bridge, along Oxford Street, May Street, Howard Street, Fisherwick Place, College Square East, Wellington Place, Chichester Street, Victoria Street, Custom House Square and Oxford Street to the Queen Elizabeth Bridge.
As part of the options assessment process the Department will also consider the following 'next best' options:
EWAY: From Holywood Arches, via the Newtownards Road (lower section) and Bridge End to join the one-way city centre loop.
WWAY: From the Royal Victoria Hospital, via Falls Road and Divis Street to join the one-way city centre loop.
An outline business case is being prepared by the DRD which takes in procurement strategy and fares/ ticketing technology. There will be a reduction in the capacity for private cars along the routes – off-set by the provision of park and ride facilities and the improved public transport services provided by Belfast Rapid Transit. Some of the dedicated bus priority measures required are already present on the Quality Bus Metro corridors. Detailed consideration will also be given to the integration of existing bus services, and taxi operations.
No decision has yet been reached on the vehicles for the BRT system although they will be of lowfloor, multi-door design with low noise drivelines. All stops will be made fully accessible and incorporate real-time information.
The transport minister said: "Belfast needs a modern and efficient transport system. Belfast Rapid Transit will provide fast and efficient access into and across the city and help to regenerate and open up new development opportunities along its routes. It will play a key role in supporting local economies, linking businesses with markets and linking communities and people with jobs."
Kennedy recently led a party of officials to view BRT operations in Nantes. He added: "The Nantes BRT is widely regarded as the best in Europe and I saw for myself how a city of comparable size to Belfast can significantly increase the use of public transport and reduce reliance on the private car."
The public consultation closes on January 6, 2012.
Visit www.drdni.gov.uk and for a copy of the public consultation, call 028 9054 0273.