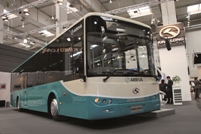 Bus network in Malta to revert to old system after being named an over-ambitious failure
MALTA After widespread criticism of the new interchange transport system in Malta, a major overhaul of routes was announced on Saturday October 15, with routes reverting to the old system of each town and village with a direct link to Valletta and Mater Dei Hospital.
Starting from November 6, the transport system will consist of interchanges and routes based on Malta's old hub-and-spoke system, with Valletta at its centre.
Questions were asked when the government revealed passenger numbers had risen by 22% after just two days. These figures were later called into disrepute when it was discovered the increase did not factor in the number of people who had to change buses to get to their destination as a result of the new system.
Speaking at a press conference, transport minister Austin Gatt admitted the new transport system had not worked.
"We were to blame. The choices were over-ambitious – we were too avant-garde, too innovative," he said.
Not all the routes with interchanges were deemed to have failed by Gatt, who said the six routes to the airport, which previously did not exist, were "extremely successful".
New connections – such as Naxxar to Sliema or ?ebbu? to Rabat – were created, and small villages like Ba?rija and Manikata were linked on the interchange. Also, transport was available to all localities until 2300hrs.
With the roll-out of the new routes, the fifth phase of adjustments in the new service, the interchange system for the new routes would be kept but 112 other routes would be adjusted, Dr Gatt said.
Arriva, operator of the services, could see fines if it does not abide by its regulations after November 4. The government has reportedly threatened the firm twice with a cancellation of its services. There have also been calls for the government to claim money back from the consultants called in to administrate the routes.