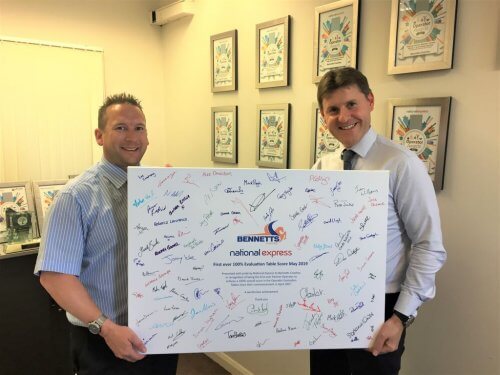 Gloucester-based Bennetts Coaches has had its efforts recognised as the first company to achieve full marks in National Express' monthly Operator Evaluation.
Bennetts Coaches has been operating in partnership with National Express for nine years and currently operates eight routes.
The evaluation has been running since 2007 and assesses each of the businesses that run services on behalf of National Express, to make sure that they are meeting the high standards of the operator.
Scores are awarded across 18 measures which includes reliability and punctuality of service, vehicle audit, safety, driver performance and customer satisfaction.
Ed Rickard, Service Delivery Director at National Express, said: "Every month we check that each of our 25 plus partner operators are doing all the right things to ensure our customers have a reliable, safe and positive experience with us.
"We set incredibly high standards with operators coming very close, but Bennetts Coaches is the first to hit a full 100% in 12 years of running the evaluation. I was delighted to be able to congratulate them in person on a recent visit."
Chris Lucassi, Operations Manager at Bennetts Coaches, said: "We always strive for 100% in everything that we do. I'm very proud of the team here and full marks in the National Express Evaluation Tables indicates how hard they work to provide the best experience for customers."