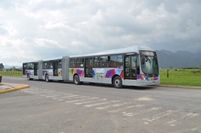 Confirmation of Volvo Buses' leading position in BRT
ECUADOR Volvo Bus Latin America has received an 80-strong bi-articulated bus order from the BRT (Bus Rapid Transit) system of Quito, capital of Ecuador. It will be the first time that bi-articulated buses will run in the city and the order further enhances the Swedish manufacturer's leading position in supplying this type of vehicle.
"The city is investing in improving its urban transportation system and our high-capacity passenger vehicles will help them meet the demand in the BRT corridors", said Euclides Castro, Urban Bus Commercial Manager, Volvo Bus Latin America.
The buses are 27m-long B340Ms bodied by Superpolo and capable of carrying 250 passengers. Their higher transport capacity enables a reduction in the number of vehicles operating on the corridor, which consequently increases the average speed of the system, reducing emissions and operating costs. The first bi-artics will start to operate May in time for the city's anniversary celebrations.
Volvo says that it is a pioneer in the development of vehicles for BRT systems and is recognised as the market leader. The company has delivered more than 4,000 buses to the BRT-systems of Curitiba, Bogotá, Guatemala City, Mexico City, Santiago de Chile and San Salvador.
"Bi-articulates are the best solution to increase the efficiency of urban mass transit systems in large cities," said Luis Carlos Pimenta, President of Volvo Bus Latin America. "They reduce displacement time; in addition to reducing emissions and operating costs, because they reduce the number of buses on the streets."