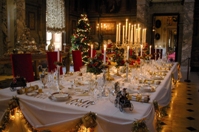 Blenheim Palace welcomes all for the festive season as it hosts 'A White Christmas'. From November 12 to December 16 (Wednesday to Sunday inclusive) the Palace will be decorated with icicles, snowflakes and silver white birches.
On November 13 families can join in the tradition of stirring the Christmas pudding and making a wish. 'Stir-up Sunday' will take place in the Indian Room. Blenheim Palace's cook will give live demonstrations on how to make a traditional pudding.
November 26 and 27 will see the Ice King and Snow Queen 'living statues' come to life in the Great Hall, and families will be able to visit Santa's Grotto for the first time on December 3, 4, 10 and 11.
For the festive season, the gift shops will feature a collection of decorations inspired by 'A White Christmas' along with traditional Christmas foods, hampers, wines and champagnes. The Gift Shop is open daily from 1000 to 1730hrs up to December 23, reopening from 1100hrs on Boxing Day.
Group rates apply to parties of 15 or more. Palace, park and gardens tickets are £10.75 for adults, £9.60 for concessions and £6.20 for children. Tour leaders/guides and coach drivers are admitted free and refreshments to the value of £5 are available in the Water Terrace Café. Free coach parking is located by the entrance to the Palace and Gardens. Group visits must be booked in advance.
Contact the groups coordinator by email on: [email protected] com or phoning 01993 811091.