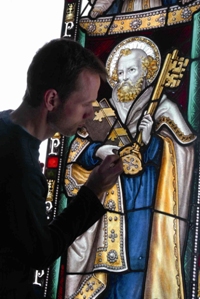 Organisers look to build on this year's success
A heritage crafts festival is to be held in Lincoln next year, and after its spectacular launch event proved to be a big success, 2012 promises to be an even bigger one.
The first-of-its-kind event, named '1000 Years of Traditional Crafts', was held in May 2011 in the heart of historic Lincoln, and combined two of the city's top attractions for a one-day festival, featuring heritage skills and crafts from across Europe and the UK.
Organisers have announced the event is to return next year, albeit extended over two days, over the weekend of September 29 and 30. The festival should also herald the completion of Lincoln's brand new Heritage Skills Centre which will be built over the next year in the grounds of Lincoln Castle.
The new centre, costing £2.1 million, will be the first new building inside the Norman-era castle for 150 years and will provide training workshops for new recruits to learn bygone trades. It will also offer the chance for the public to view skilled craftsmen at work, becoming an excellent visitor attraction in the process.
Mary Powell, head of tourism for Lincolnshire County Council said: "We were thrilled with not only how many visitors turned up, but also how well received this year's event was by heritage craftspeople from far and wide.
"We're very pleased to not only hold the event again in 2012, but expand it to a two-day weekend celebration."
For group tours, Lincoln city coach parking is available at Stagecoach Lincolnshire garage at Great Northern Terrace, which has full facilities. Parking will also be available at Tentercroft Street and the city bus station, plus designated coach drop-off and pick-up points across the city.
For more details about coach facilities in Lincoln, click here. For additional details about the festival, go to Visit Lincolnshire.