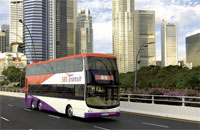 SINGAPORE: SBS Transit to boost fleet with 550 Volvos for Singapore and 450 Mercedes-Benz Citaros
ComfortDelGro-owned operator SBS Transit has ordered a staggering 1000 buses – 550 Volvo B9TLs and 450 Mercedes-Benz Citaros.
The Volvo order comes after the company acquired 150 B9TLs in 2009 and a further 300 in 2010. They are all being supplied with Euro 5 engines and Wrightbus CKD aluminium body kits. The chassis are being built in Volvo's Boras plant and the finished buses assembled in Singapore. Deliveries are scheduled to commence in January 2013 and completed by 2015.
SBS Transit CEO Gan Juay Kiat said: "We have been renewing our fleet since 2006 to provide our commuters with a more comfortable and safer ride. The needs of passengers in wheelchairs are not forgotten as all our new buses come equipped with a wheelchair ramp. Our new buses will also be fitted with Euro 5 engines even though this is not a regulatory requirement until 2014."
"This order once again underlines the strong relationship built up between SBS Transit and Volvo Buses over many years of close partnership," said Steve Hedouin, Volvo Buses' Singapore General Manager. "The quality provided by the B9TL chassis combined with Wrightbus bodywork provides SBS Transit with an environmentally advanced solution which is fuel-efficient and reliable, best suited to Singapore's demanding operations. This, together with Volvo Buses' commitment to offer world class service and parts support provided the winning formula."
Meanwhile, Daimler Buses announced it has secured an order for further Mercedes-Benz Citaros for delivery beginning this autumn through until the end of 2015. SBS Transit placed an initial order for 300 Citaros in April 2011; the last of these buses are currently being delivered. Similar to the initial order, these Citaro buses also meet the Euro 5 emission standard. They are to be built at the EvoBus plant in Mannheim.
The new order is the largest ever for Citaros in Asia, which Daimler said underlines the Citaro's claim of being the most successful urban bus of all time, with more than 33,000 units produced over 13 years.
Head of Daimler Buses Hartmut Schick said: "SBS has ordered a total of 750 Citaro buses. An order as large as the most recent one offers strong proof our buses deliver outstanding quality, as well as great environmental compatibility and reliability. We're very proud to be able to play such a key role in the local public transport system of one of the most important major cities in Asia."
The vehicles are first-generation 12m Citaro lowfloor buses with two doors. Each has 13 priority seats. Due to Singapore's humid tropical climate, all vehicles are equipped with powerful air conditioning. They are also equipped with internal and external CCTV. Mechanically, they are powered by Mercedes-Benz BlueTec diesel technology and meet the Euro 5 emission standard.
Commenting on the Citaro order, Gan Juay Kiat, said: "Our passengers are highly satisfied with the high level of comfort the Mercedes-Benz buses are offering. For SBS, the Citaro has not only proven its reliability but also its environmental soundness and its cost efficiency. So it was the natural choice when we opted for the further renewal of our bus fleet."
SBS Transit operates more than 250 bus routes in Singapore and has a total fleet of around 3,000 buses. The company covers 75% of all bus services in the city, including feeder, express, and premium routes. Volvo has supplied over 2,000 buses to Singapore since 1981. Visit www.sbstransit.com.sg