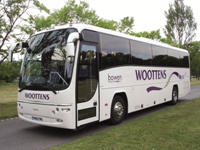 Operator enters latest phase of rebranding exercise
Midlands-based Bowens Travel is to rebrand its travel shops as BTG Travel after the decision was made to end a franchise agreement with First Choice, part of Tui Travel Group, Travel Weekly reported. The Bowens chain, comprising of 37 stores and four coach tour operations, will join Hays Travel Independence Group. The five-year franchisee agreement the operator had with First Choice is due to expire at the end of the year, and the switch will officially take effect on January 1.
Chief executive of Bowens, Ronald Graham, said: "During the five years we have enjoyed a good working relationship with First Choice.
"We have learnt a lot from working closely with the Tui organisation and now look forward to a new chapter in our history as members of the Hays Travel Independence Group."
First Choice took on two franchises five years ago. One was Bowens, and the other was Go Travel, which is understood to have renewed its agreement. Nick Longman, distribution and customer director at Tui Travel, said it came to a mutual agreement with Bowens Travel.
"Unfortunately, the renewal of a large franchise operation does not really meet our long-term strategy of controlling more of our distribution through our own routes to market," he explained.
Managing director of Hays Travel, John Hays, called Bowens a "well-established business," and expects the relationship to be closer than usual Independence Group agreements, as Hays will look after aspects such as payroll and marketing.
Rob Lyng, MD of Bowens Travel, told CBW the rebrand of Bowens Travel follows a 2010 rebrand of the firm's coaches and coach holiday brands, to fall in line with the common banner of the Bowen Travel Group. Bowens operates the coach holiday brands Bowens, Jeffs & Woottens, Applebys and Yorks.