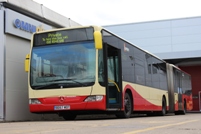 TC Nick Denton said he did not think any further action was necessary despite two S marked prohibitions
Brighton and Hove Bus Company has been issued with a formal warning by Traffic Commissioner for London and the South East Nick Denton.
The company was forced to attend a public inquiry at Ivy House, Eastbourne, after it failed a safety inspection by VOSA. Nick Denton said he did not think revoking the operator's licence would be appropriate action.
VOSA held an investigation after a wheel came off a moving bus on December 31, 2012. The bus was in service on a university campus but nobody was hurt. An inspection of the vehicle resulted in the issue of an S marked prohibition and during the inquiry, the TC noted the wheel loss was classed as a most serious infringement under EU regulations.
The TC heard the company had also failed to spot that loose wheel nuts were a developing problem with the articulated buses in the fleet and that there was insufficient quality control of vehicle maintenance contractors.
A further S marked prohibition, for a damaged tyre, and additional prohibitions where the operator admitted fault were examined during the hearing, along with inadequate driver defect reporting and stretched preventative maintenance inspections.
Mr Denton said: "It is clear and has been admitted by the operator and its Transport Managers that there has been a blemish in this operator's compliance record made up of several sub-blemishes.
"First was the wheel loss incident in December which is most insufficient by EU law and failures in the maintenance system.
"There was insufficient quality control of outside maintenance contractors who sent back a vehicle with a significant fault in the tyre. That should have been got on top of straight away. There has also been excessive time between checks of up to eight weeks rather than the six weeks it is supposed to be.
"All this adds up to a picture where compliance was awry."
The company will now have to send a copy of its next transport assessment to the TC to ensure it is complying with regulations.
Martin Harris, CEO of Brighton and Hove Bus Company, said: "We recognise the findings of the TC are a fair conclusion and we appreciate he has taken account of the work we have been doing, and will continue to do, to ensure we maintain the very highest standards of safety and comfort for our passengers."