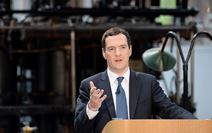 Despite a 37% cut over the next five years to the DfT budget, including the withdrawal of the TfL Resource Grant, the £300m bus subsidy is set to continue
The Chancellor has published the results of the Spending Review, including details of the Department for Transport's budget over the course of the current government.
For the Department for Transport (DfT) this means:
£46.7bn of capital investment byDfT over the next five years on High Speed Two (HS2), roads and local transport. The government claims that, together with Network Rail's investment programme, this will deliver the biggest road improvement programme since the 1970s;
Pressing ahead with construction ofHS2 beginning this Parliament, providing £300m of development funding for the next generation of transformative transport infrastructure, and £475m of new funding to support construction of large local transport projects; and
Overall resource savings of 37% by 2019-20, reducing the subsidy paid to rail franchises through reaping the efficiency benefits of competition, and phasing out theTfL Resource Grant, representing a 6% efficiency saving to its annual budget.
It was also confirmed that the threatened Bus Service Operators Grant (BSOG), currently worth over £300m each year to bus services in the UK, has been protected in the current Spending Review.
The government will phase out the resource grant made to TfL, which represents 6% of TfL's annual budget, and will support over £11bn of investments in London transport. This grant reduction will save £700m in 2019-20 which the body will aim to achieve through further efficiency savings or through generating additional income from the 5,700 acres of land TfL owns in London.
The government will also provide TfL with additional financial flexibility, and over time will consider transferring the funding for the TfL Capital Grant as part of the business rate retention reforms.
TfL confirmed that from 2019 it will cover all day-to-day running costs from non-DfT grant sources of income. This will include fares, commercial revenues and the retention of business rates from non-domestic and commercial properties – an income stream which it expects to rise as the capital's economy continues to grow.
If successful, it will make London the only major European city transport network not to require an operational subsidy from central Government. TfL claims this has been made possible through major improvements to capacity and reliability of the network, which has meant significant reductions in maintenance costs and the implementation of a major savings and efficiencies programme, and an increase in commercial revenues.
Highways England expects to deliver 112 major roads schemes worth over £15bn upto 2020-21, which it is claimed will deliver an average benefit of £4 for every £1 invested.
The government will also spend more than £600m between 2015-16 and 2020-21 to support uptake and manufacturing of Ultra-Low Emission Vehicles (ULEVs) in the UK
The DfT expects to deliver substantial savings through driving increased efficiency in both the core department and its Arm's Length Bodies (ALBs), including the DVLA's continued move to digital services saving a further £94m this Parliament and continued improvements to ticketing technology.
The government will continue to devolve significant transport powers to mayor-led city regions, including Greater Manchester, Sheffield City Region, Liverpool City Region, the North-East, Tees Valley and the West Midlands.
Transport Secretary, Patrick McLoughlin, said: "This settlement is a great boost for the future of Britain.
"Faced with difficult decisions on the public finances we could have rolled back our ambition on transport. Instead, we are choosing to invest for the future by increasing capital investment in Britain's transport network by 50% to £61bn over this Parliament. This will support jobs, enable economic growth and bring our country closer together.
"Investing in transport is vital to ensuring the whole of Britain benefits from a growing economy. By massively upgrading our railways and roads, investing in HS2, the Northern Powerhouse, buses and sustainable transport, we are delivering the long-term commitments necessary to provide security and opportunity for working people.
> Reactions
The Confederation of Passenger Transport UK (CPT) said it was delighted to learn that BSOG will remain at current levels, despite cuts to DfT's budget.
CPT Chief Executive Simon Posner said: "This is extremely good news for the bus industry. CPT has persistently lobbied DfT to retain BSOG at current levels and for the Grant to be paid direct to bus operators.
"As I told the Transport Minister Andrew Jones MP, the industry is grateful to the Secretary of State and his team for their efforts in securing this deal in what will have been a very difficult Spending Review process.
"BSOG is a key element in assisting operators, enabling them to keep fares affordable and continue running services that might otherwise be unprofitable and therefore vulnerable to cancellation. So the overall winner will be passengers."
Chairman of Bus Users, the Rt Hon Norman Baker, welcomed the decision to maintain BSOG.
He said: "This is great news for bus services and for passengers. Cutting the BSOG would have led to fare increases and further cuts to services, causing particular hardship to vulnerable people and people on low incomes."
Stephen Joseph, Chief Executive of Campaign for Better Transport, said: "The Chancellor's focus remains squarely on ever more infrastructure, often at the expense of vital everyday transport.
"While Mr Osborne dons his hi-vis jacket and hard hat at big construction projects, bus services continue to be lost and high impact investment in walking and cycling is scaled back.
"The Chancellor's claim that 'We are the builders' will be meaningless for people finding it harder to get to work, school and town centres because their cash-strapped local authority can't support a bus service.
"It's great that the Government has allocated funding to develop smart ticketing in the North of England, but this is needed all over the country. The lack of real roll out of flexible ticketing for part time workers nationwide is also a disappointment despite assurances that schemes will be included in future rail franchises."
An SMMT spokesman said: "Government engagement with industry has been fundamental to the recent success and global competitiveness of UK automotive, so today's commitment by the Chancellor to a long-term industrial strategy for the sector is encouraging.
"More specifically, we were pleased to see the Chancellor heed SMMT's call for increased investment in Catapult Centres and the extension of funding for the Advanced Propulsion Centre (APC) – both of which are vital to securing the UK's position as a global centre of excellence for innovation.
"Meanwhile, the renewed support for ULEVs will help maintain the UK's position as Europe's fastest growing market for these new technologies."
Claire Haigh of Greener Journeys said: "The Chancellor is absolutely right to protect the Bus Service Operators Grant (BSOG) in his Spending Review.
"Greener Journeys has clearly demonstrated that the Grant delivers very high value for money, generating up to £3.50 in net economic benefit for every £1 spent, so of course it is a relief that such vital funding has been preserved.
"However, the deep and widespread cuts to local authority funding mean that bus services may still be under threat.  Buses provide a crucial service in keeping people connected to their families, jobs, communities and training opportunities, so it is vital that wider bus funding is also protected over the course of the next Parliament."