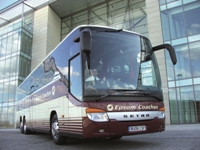 Epsom Coaches appointed to run LUL rail replacement
Epsom Coaches Group has been appointed by Transport for London (TfL) to operate a non-stop rail replacement between London Heathrow Airport and Acton in November to cover for engineering work underway on the Piccadilly Line.
Over 80 coaches will be provided, supervised by 50 controllers and baggage handlers, making it one of the largest operations of its kind in the UK.
Epsom was due to run three replacement services over the weekend of November 5-6 and is expected to do the same on November 12-13.
Routes A and B will run from Acton town to Heathrow, with route A serving terminals 1, 2 and 3 and route B serving terminals 4 and 5. Route C will run from Ealing Common to terminals 1, 2 and 3, with a number of stops en route.
Steve Whiteway, commercial director at Epsom coaches, told CBW: "We have developed a strong relationship with TfL, consistently winning the work under tender for over 10 years, providing replacement services whenever they have been required of us.
"The same control team worked on this replacement service last year, so they are very familiar with it. They will gain some helpful out of season hours on these weekends."
Steve said the operation was showing the bus and coach industry at its best, with up to ten operators and a number of subcontractors co-operating to provide the best service possible with a variety of different vehicles, such as Volvos, Scanias and Epsom's own Setras.
He added: "Replacement services don't always get the best press as people are forced away from the transport of their choice, but when we have performed this service in the summer in prior years passengers have been very impressed, often travelling faster on the coach in the lighter weekend traffic than they would by train. The air conditioning and baggage handling we provided also went down extremely well."
In a separate development, Epson Coaches Group attained 100% compliance in a recent intensive TfL Health and Safety Audit for the fourth year running.
Fleetcare services manager Steve Appleby said: "It is quite something to achieve 100% in anything in life, but the fact we have achieved 100% in this important check on our safety culture for four years running must be something of a record.
"We certainly won't be resting on our laurels, but will continue to apply practical common sense rules to ensure the safety of our staff, visitors and customers."