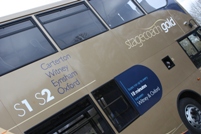 Fall in profit driven by further falls in London, with turnover across all companies analysed increasing by just 0.5%
Profits in the UK bus industry fell for the second successive year in 2011/12, according to new analysis published this week by Prestonbased transport specialist The TAS Partnership. The 140-page report Bus Industry Performance 2013 presents the results of its annual analysis of 118 local bus companies around the UK, in what is the 22nd year of the firm's Bus Industry Monitor project.
The report says operators have continued to control costs, with increases well below inflation, but at the same time, revenue growth was also well below inflation – implying a sharp real-term fall in all the markets. Turnover across the companies analysed increased by just 0.5%, reaching £5.23 billion. Operating profit was £352.6m, 9.8% lower than in 2011/11. Operating margins fell to 6.7% (2010/11: 7.5%, 2009/10: 7.9%).
The fall in profits was partly driven by further falls in London, but companies outside the capital also lower operating profits. These businesses saw a 1.2% increase in turnover, taking the total to £3,531m, while operating costs rose by 2.2% to £3,222m Operating profit was 8.7% lower at £309m and operating margins fell back to 8.7% (2010/11: 9.7%, 2009/10: 8.8%).
Commenting on the report, author Chris Cheek said: "When you remember these falls occurred before the further reductions in government and local authority funding taking place in 2012/13 – with more in prospect for future years, you can begin to understand why the last few months have not been the happiest in the industry. It would not take too many more years of revenue loss to wipe out the current levels of profit – especially as costs (and particularly labour costs) start to rise once more."
Wellglade subsidiary Kinchbus was the most profitable company in the country, with an operating margin of 22.6%. Next came two Stagecoach subsidiaries, Oxford (Thames Transit Ltd) on 22.1% and Warwickshire (Midland Red South) on 21.9%. Seven out of the top 10 were Stagecoach subsidiaries. First West Yorkshire came tenth on 18.7% and Bristol 11 on 17.7%. Stagecoach also owned one of the three biggest loss-makers – Orkney Coaches (14.6%). Others belonged to First, with its Devon & Cornwall company on 14.8% (prior to the closure of its North Devon operations) and First Capital East (22.7%).
Looking at operating costs, there was a second successive real-term fall. In nominal terms, costs rose by 1.3% nationally against an inflation rate of around 3%. Measured against the RPI, though, they fell by 1.2% in real terms. This came despite a 17.7% real rise in diesel prices during the year. This meant that once again the workforce bore the brunt of the economies. The total employed by the companies fell by 1.5% (around 1,500 jobs).
Outside the capital, unit labour costs started to rise once more, after three years of real-term stability. The real rise was small enough though, at 0.8%, taking the average unit cost to £25,424. In London, unit labour costs fell back by 0.5%, to stand at £37,242.