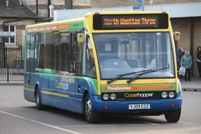 Pubs, cafés and Norfolk Wildlife Trust's Cley Marshes reserve are supporting Norfolk Green's Coasthopper service, which runs between Cromer and King's Lynn.
The scheme, organised by the Norfolk Coast Partnership, aims to entice more passengers with the lure of cut-price deals along the way.
Ben Colson, MD of Norfolk Green, welcomed the initiative which he said was part of a package of measures introduced to cut costs and boost passenger numbers. He also warned that this year is critical for the future of the Coasthopper, after funding cuts by Norfolk County Council, coupled with costs cuts to BSOG in April 2012, meant the 'top end of £250,000' had been taken out of the service since April 2011.
Last year the service carried 544,000 passengers but only a little over a third of them had been fare-paying. Colson claimed the average distance travelled by pass holders using Coasthopper was 15 miles, meaning the company was carrying them at entirely its own expense for about 11 miles per journey after concessionary fares reimbursement.
Recently, fares on the Coasthopper have risen by 7%, the number of vehicles on the route has dropped from 13 to 12, the last bus of the day is running earlier and the extended summer season service has been shrunk from April- October to May-September to try and save the service.
"[Coasthopper] is becoming increasingly difficult to sustain," Colson said.
"We don't want to have to make 20-plus drivers redundant and we don't want to leave businesses along the road isolated and abandoned. We are working hard to try and find rather unusual ways of trying to resolve this problem."
At The Jolly Sailors pub, in Brancaster Staithe, Duty Manager Marek Vlk said they were offering Coasthopper passengers 10% off stonebaked pizzas on weekday lunchtimes.
"There is a bus stop just across the road from the pub and it's very important to us in the summer. We get a lot of passengers who use the bus and come visit us," said Mr Vlk.
Grant Rundle, Community Officer with the Norfolk Coast Partnership, said local businesses valued the Coasthopper as it brought them customers and helped protect the special character of the coast. Residents and visitors said it was a lifeline.
He added: "When we heard it was under threat we decided to help out."