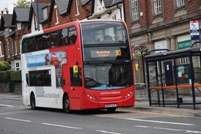 Judge throws out questionable claim and orders perjury investigation
National Express West Midlands (NXWM) is in something of a celebratory mood after a judge presiding over a whiplash compensation claim it is fighting said he "disbelieved the claimant's evidence in its entirety" and that the bus 'accident' had never happened.
Mohammed Hafeez Saeed, 26, took legal action against NXWM after claiming he suffered a neck injury when a double decker hit his parked car, which was full of passengers, in Bordesley Green on March 2, 2011. The motorist later caught up with the bus and reported the 'collision' to the driver. A supervisor was called and he inspected both vehicles, but was unable to relate the alleged damage to the car to any damage to the bus.
However, investigations revealed the damage to the car could not have been done by the bus and NXWM decided to challenge the compensation bid in court – a case which brought Saeed's previous claims to light.
At the hearing at Birmingham County Court, the address given for an orthopaedic surgeon who is said to have signed the driver's medical report was revealed to be that of a taxi company. Saeed and his friends were found to be lying on oath. Judge Simon Brown QC ordered £15,700 be paid towards NXWM's legal costs.
At least two other people were in the process of claiming compensation for injuries they claimed to have suffered in the same incident. One of them was Saeed's girlfriend Adele Raven, 27, who has made a total of three accident compensation bids in recent years.
At the hearing it was also revealed the gang had previously lodged up to 23 whiplash claims for other alleged car accidents – with Saeed involved in up to 13 of them over the last eight years. Six claims alone were made for 2010-11. The judge has now thrown out the claims against NXWM.
Furthermore, in what is believed to be an unprecedented move, the Judge referred the claimant, his witnesses, legal team and medical expert to the Director of Public Prosecutions (DPP) for a possible perjury investigation in relation to this claim and all the previous accident claims.
He also said he "found it incredible" that Saeed had filed yet another whiplash compensation bid against another party after the bus crash claim.
It is not known whether the DPP or the police have begun a perjury investigation, but NXWM said it was willing to make a criminal complaint.
NXWM was represented by legal firm Berrymans Lace Mawer at the case. Partner Joanne Francis said: ''We are pleased to support and partner with NXWM in investigating and tackling dishonest claims. We collaborate and work hard with them to defend these cases and prosecute where necessary.
''It is important that the genuine customer is protected from the effects of increased costs being passed onto them in fares as a result of non-genuine claims; and it can be effective to adopt a zero tolerance approach.''
An NXWM Spokesman told CBW: "We are delighted with the result of this case. We always fight claims in which evidence raises serious concerns. We hope this will make anyone thinking of making a dishonest claim think again. We are unable to give further comment as the matter is on-going."