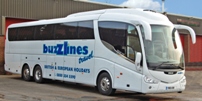 Buzzlines has introduced a number of luxury continental touring holidays to its 2013 programme as part of a road/rail travel alliance with Eurostar.
Buzzlines' new Eurostar Connection programme features destinations across France including Reims and the Champagne region, Auxerre, The Loire Valley, the Costa Brava and Eastern Pyrenees. There is also a seven-day classical music-orientated tour of Germany, which culminates in a trip to the Waldbühne in Berlin.
Each European excursion includes return Eurostar journeys between London and Paris, Lille or Brussels, as appropriate. All tours (with the exception of the Reims long weekend) will be supported from St Pancras onwards by a Buzzlines 'Tour Captain'.
Adrian Gilson, MD at Buzzlines said: "Connecting with Eurostar is part of our luxury theme. Crossing the Channel by train offers our passengers an interesting and enjoyable "commute" and means their holiday starts as soon as they board the high-speed train at St Pancras. Our competitive holiday prices even include the Eurostar baggage service, so Buzzlines customers can fully enjoy their onboard experience without having to wrestle with their suitcases."