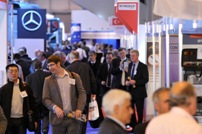 The Commercial Vehicle (CV) Show and Workshop 2013 is set to open it's doors from April 9 to 11 and is quickly running out of space, organisers report.
"While 2012 proved to be a tough year for the UK CV industry, prospects are brighter for 2013 with growth forecast for light vans – building on this year's stronger results for the heavy end of the market," said Paul Everitt, SMMT CEO. "This positivity is reflected by the increase in exhibitors already signed-up and demonstrates the sector's commitment to drive through economic uncertainty, delivering more efficient and capable vehicles, products and services to the UK's CV buyers."
Geoff Dunning from show partner the RHA added: "Halls 4 and 5 are just about full to capacity and it looks as though the same will be said for Hall 3a.
"The 2013 Show displays one of the widest-ever ranges of exhibitors including the majority of the truck, trailer and van manufacturers, tyre specialists, telematics experts, hydraulic and lifting gear suppliers, tanker operators – the list is seemingly endless."
Free tickets are available via www.cvshow.com/webcontent/