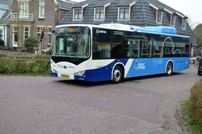 Europe's first publically tendered order for electric-powered full size buses
NETHERLANDS The national park of Schiermonnikoog in the Friesland has become one of the first places in Europe to convert the whole of its public transport to emission free electric buses supplied by Chinese maker BYD.
Six vehicles, operated by Arriva, entered service on April 26 after a ceremony in the park located in the north of the Netherlands.
The vehicles were awarded in Europe's first publically tendered order for electric-powered full size buses.
The buses are aimed at providing passengers with an ecologically sound public transport system for the next 15 years delivered by BYD's unique eBUS model, a full size single decker powered entirely by the company's advanced iron phosphate batteries. The 12-metre buses arrived in Schiermonnikoog in late April after a six-week sea voyage from BYD's plant in Shenzhen, Southern China.
Member of the Friesland Provincial Executive Johannes Kramer said: "This is the Europe's first fully electric bus tender to enter service. Friesland is leading the way. This is good for the people living in the national park Schiermonnikoog and for the tourists who enjoy it so much."
Isbrand Ho, MD of BYD Europe BV, said: "We are delighted to have won this first competitive tender to supply these revolutionary vehicles and to contribute to the environmentally friendly policies of the provincial government in Friesland. They are the first BYD electric buses to go into passenger carrying service in Europe and we anticipate further significant orders following the successful trials programmes we have undertaken in many locations."
BYD has entered into a 15 year maintenance contract to support the buses in service and will be employing locally recruited mechanics to undertake the work.
BYD ebus
The BYD ebus is BYD's first pureelectric bus and the first Iron- Phosphate battery powered e-Bus in the world.
The specially designed wheelhub motor and the electronically controlled air suspension give the insulation keeping the interior ride whisper quiet.
BYD's first pure electric bus also employs many advanced technologies developed internally by BYD's 15,000 engineer strong R&D team. For example, the Iron-phosphate or 'Fe Battery' used on the BYD ebus is non-polluting: the materials contained in the battery can be recycled or easily disposed of.
BYD ebus Highlights
Environmentally friendly: no direct emissions, low noise, recyclable Fe battery (no toxic electrolytes and no heavy metals)
High technology: regenerative braking, wheel-hub motor, Fe battery, easy charging, fully charged in five hours
Long range: the BYD ebus is able to run 250 km (155 miles) on a single charge in urban conditions
Safety: unibody construction, 4-wheel disc brakes, ABS and ASR, passenger-oriented design, ample door space with low-entry and special ramps for wheelchair access