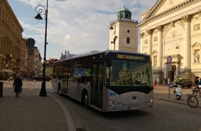 Trials show furthest range after one full charge of any electric bus
POLAND After a two-week successful trial in Warsaw, BYD's pure electric ebus has now started a trials programme in Poland's second city – Krakow.
MZA Warsaw, the municipal transport company, tested the ebus on intensive service route 222, which runs through some of the main streets of Warsaw, such as Trakt Królewski. Average energy consumption over the two-week trial was less than 1.3 kWh/km, despite the air conditioning system being constantly in use. MZA confirms that the minimum range of the ebus in urban bus operation was at least 250km.
An MZA driver then delivered the bus over the demanding and hilly 310km route to Krakow. Leaving at 2300hrs from an MZA depot in Warsaw the bus arrived at the Krakow MPK bus operator's depot at 0445 the following morning having consumed only 69% of the power in the fully charged BYD battery. MPK is now completing its own two-week trial of the BYD ebus.
MZA Warsaw said the price of electricity per 100 km for the BYD ebus was equal to 50 zloty (~£9.70), while the current combustion engines consume more than 40 l. of diesel fuel per 100 km, which costs at least 200 z?/ 100km. With a daily mileage of 250 km, the bus provides saving of at least 395 zloty per day, 10,665 zloty for 27 working days (one month) – therefore, one bus may provide savings of at least 127,980 zloty (~£24,900) annually.
BYD claims ebus can drive for 250 km even in heavy city traffic after one full charge (although, as the Warsaw-Krakow journey showed, this may be a conservative figure). This is the furthest range of any electric bus. Charging time depends on the applied charger. The bus on test charges in the depot in just five hours from a completely depleted battery.
The ebus is the first pure-electric bus powered by Iron-Phosphate battery in the world. More than 250 BYD ebuses are now in passenger carrying operations. The ebus measures 12m long and is designed for passenger comfort. It drives via a wheel-hub motor and has electronically controlled air suspension.
Orders have been awarded in China, the Netherlands, Finland, Denmark, Uruguay, Canada and the United States. The BYD electric bus has also been successfully tested in many cities in Europe including Madrid, Barcelona, Budapest, Salzburg, and etc. The accumulated mileage of the 200 electric buses operating in the city of Shenzhen (China) alone have exceeded 15 million km (or 9.3m miles) by the end of March 2013.