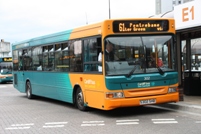 Cardiff Bus MD David Brown resigned on July 6 as the company was fined over£90,000 for illegally driving rival 2Travel off the road.
Directors for 2Travel (in liquidation) had asked the Competition Appeals Tribunal (CAT) for nearly £20m in compensation, which would have had to be met from public coffers at County Hall.
However the three judges who heard the case ordered Cardiff Bus to pay just £93,818 in compensation for the loss of business and exemplary damages.
Cllr. Joseph Carter, Company Chairman said: "Following the resignation of David Brown on Friday, Cardiff Bus has appointed Cynthia Ogbonna, its Finance and Administration Director, as Interim MD. The board will move swiftly to recruit a permanent MD.
"Ms Ogbonna has served Cardiff Bus since September 2004 and is well respected in the transport industry. She will make an excellent Interim MD."
The judges said: "We find Cardiff Bus's behaviour is only consistent with that of an organisation which had deliberately decided to disregard the law and this conduct was done in cynical disregard of 2Travel's rights.
"Inevitably, this involves rejecting much of the evidence given by MD David Brown as untrue (regarding the extent of his involvement in the development and operation of the White Service and in his appreciation of why Cardiff Bus decided to begin operating this service) and that is the conclusion we have reached.
"There were no pro-competitive effects to Cardiff Bus's conduct, serious anti-competitive effects and there was an exclusionary intent.
"We find Cardiff Bus acted in knowing disregard of an appreciated and unacceptable risk where Chapter II prohibition was either probably or clearly being breached or it deliberately closed its mind to that risk. We find that this reckless state of mind was held by both former Managing Directors Alan Kreppel and Mr Brown."