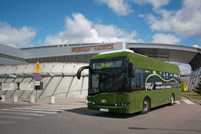 Bus worked throughout Euro 2012 football tournament with no failures
POLAND The Solaris Urbino electric bus has successfully completed its first period of regular daily passenger service. For three weeks during the Euro 2012 football championship, it ran in the host city of Pozna?, accumulating 3,000 kilometres without any failures. Solaris and its partner Vossloh Kiepe, the supplier of the electric drive-train technology, can offer operators electric buses which are fully homologated and ready for the challenges of everyday operation.
To match the theme of the Euro 2012 football championship, the outside of the Solaris Urbino electric was covered in artificial turf, turning heads as it silently ran through town. For 22 days, it worked scheduled passenger services between Pozna?'s airport and the city centre, allowing football supporters and other guests to sample vehicle. The daily mileage of 150 kilometres offered a lot of room for future intensification of operation thanks to its rapid charging capability between peak hours.
The bus used in Pozna? is the second of its kind. Like the first demonstration vehicle presented in autumn 2011, it is based on the Solaris Alpino LE midibus. Traction power remains unchanged at 120kW and battery capacity at 120kWh but a new feature is a rapid charging solution for the batteries. At 100kW charging power, it takes as little as 90 minutes to refill fully depleted batteries.
Development is ongoing and while the first two demonstrators will continue to be tested in various cities across Europe in the coming months, the next vehicle is already being built. It will be a 12m Solaris Urbino. Plans for an articulated version have also been finalised, allowing Solaris to offer forwardthinking operators a full range of battery buses.
This flexibility in meeting operational requirements is facilitated by the modular design of the electric system. Vossloh Kiepe's technology is easily scaled. The system is also prepared for automated fast charging systems such as inductive power supply, allowing batteries to be topped up along the route or at the terminus, putting paid to problems of limited operational range.
The Urbino electric is built exclusively in Solaris' own factories in ?roda Wielkopolska (bodyframes) and Bolechowo- Osiedle (final assembly) in the Greater Pozna? region. Key components are sourced from leading western European suppliers.
For Solaris, electric mobility has been a key field of expertise for more than a decade.