The subsidiary of the Go-Ahead Group, employing around 80 people and operating 45 buses based in High Wycombe, is to restore a coach service to Heathrow with the support of the Airport
Carousel Buses has announced that it will re-introduce its Heathrow Airport service, providing a vital link for workers and passengers on the A40 corridor.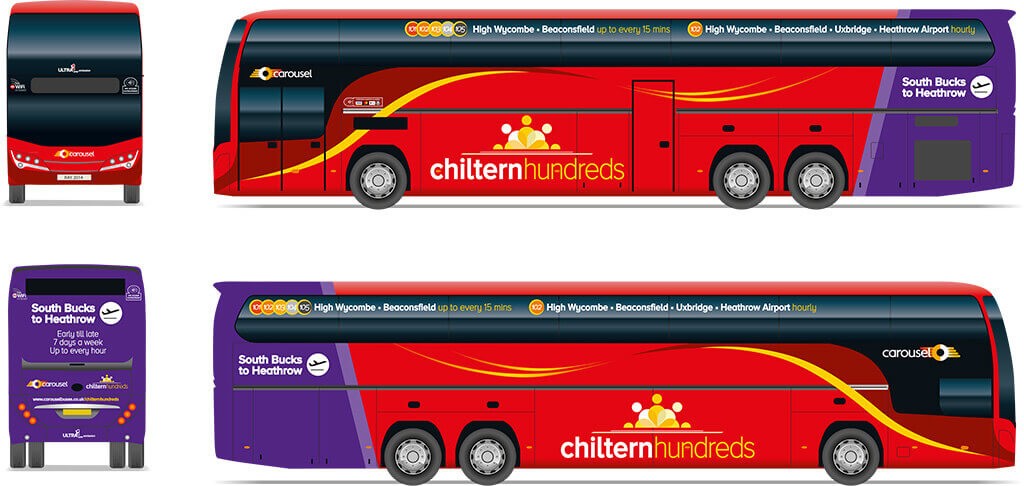 The extension of the Chiltern Hundreds service 102 reinstates the link to Heathrow Airport that was removed in June 2018, when service A40 was withdrawn due to financial challenges. It will connect High Wycombe, Beaconsfield, Gerrards Cross and Uxbridge to the airport via luxury coaches. The new service which will begin on 29 December will operate hourly throughout the day and include additional early morning and late evening journeys.
It was made possible thanks to significant financial support from Heathrow Airport, which is working to encourage even more people to travel to the airport via sustainable modes.
The announcement comes as Carousel Buses reports strong passenger growth on the Chiltern Hundreds network of services, with more than 850,000 passengers carried in the last calendar year, representing a 20% increase.
Introducing the connection to the airport is the next stage in Carousel Buses' development plan.
Phil Southall, Carousel Buses Managing Director, said: "This is fantastic news for airport workers and passengers living in the Chilterns. It forms the next stage of our strategy to provide continuous improvements to our service for passengers and to make bus travel more accessible and convenient.
"This will be the best way to access the airport on the A40 corridor and would not have been possible without the support of Heathrow Airport to help address the challenges around improving public transport mode share to the site. It highlights what can be achieved by bus operators when external funding support is provided by key stakeholders. We hope to work further with the airport to develop further new links and make additional improvements if this is a success."
The new service will be operated by former X90 Oxford-London coaches from parent company, Oxford Bus Company. The Euro VI coaches have free WiFi, air-conditioning and USB charging points. Workers will be able to use the Heathrow Travelcard to access the service. Customers can also use contactless payments on the vehicles, plus multi-journey and period pass season tickets via the Carousel Buses app or Key Card scheme.
Matthew Wooll, Bus Strategy Manager at Heathrow Airport, said: "We are delighted to support the reintroduction of a direct bus service from Beaconsfield and Gerrards Cross to Heathrow. This will provide a more sustainable transport option for locals traveling to the airport and will help to support Heathrow's goal to reduce the number of airport-related cars on the road.
"We have listened to local communities who were disappointed by the withdrawal of the A40 bus service in 2018 and have since worked with Carousel Buses to come up with a solution. The new 102 service is set to be better than the previous A40, as it will have earlier and later journeys and more modern vehicles with lower emissions."