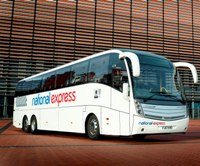 CBT has written to 124 MPs and NatEx urges customers to write to theirs
National Express and the Campaign for Better Transport (CBT) have taken measures against the cutting of the concessionary coach scheme reported in CBW1000.
The government plans to cut the scheme as of November 1 this year.
NatEx has flagged up the cutting of the scheme on its website, with a scissors logo and urged its customers to "Book now before the concessionary fares scheme closes" but assures them they can still use the scheme "providing you book by midnight on October 31, 2011 and are travelling on or before August 31, 2012".
Moreover, NatEx is asking customers to write to their local MP using a letter template, which they can download, add their details to and print off.
The website states: "From your letters and emails, we know that many of you rely on the half price fares. Some have also expressed concern that without it, they may not be able to travel. "If you share these concerns, perhaps you could write to, or email, your local MP to encourage them to raise your concern with the Department for Transport."
Meanwhile, transport pressure group, the CBT has said the decision could tip a number of coach routes into decline and closure, especially in rural and disadvantaged areas.
The CBT has written to 124 MPs with potentially affected coach routes going through their constituencies. National Express alone runs 18 routes where between 32% and 51% of passengers use the concession. Coaches are not part of the statutory bus pass arrangement, but the government funded this additional scheme to support coach travel for older and disabled passengers. 
"When difficult decisions have to be made at the very least the government should conduct a full assessment of the impacts, including consulting with the disabled and older people affected as well as coach operators," commented a CBT spokesperson. "In this case the impact assessment is a hollow tick box exercise and no public consultation was held. Communication and co-operation is key when trying to make sure that the public is cushioned as far as possible from cuts, but National Express, by far the biggest coach operator, say they have been disappointed by the silence from the Department for Transport.