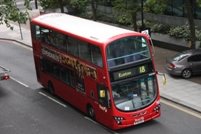 FirstGroup has released its full year results for the year ending March 31, 2013 in which pre-tax profit fell by nearly 37% on last year to £172.4m.
The statement also includes a £615m capital raising transaction plan in a bid to support future investment with a plan to pump £1.6bn into five divisions over the next four years. The group also announced that Chairman Martin Gilbert plans to step down on the appointment of a successor.
In addition, the Board proposed that no final dividend be paid in respect of the year to March 31, 2013, nor an interim dividend for the year to March 31, 2014.
Notably, FirstGroup completed its portfolio reshaping with £100m of disposals, including the sale of London depots announced in April. Revenue for the UK Bus division was £1,128.2m (2012: £1,157.2m) and like-for-like passenger revenue growth was 2.4% (2012: 1.6%). Underlying operating profit was £90.7m (2012: £134.4m). The group cited the fall in Government funding available to the industry as well as external cost pressures, particularly fuel and pension costs, for the reduction.
FirstGroup's CEO, Tim O'Toole said: "Through these actions, combined with our scale and expertise, we are positioning the business for improved growth and returning it to a profile of consistent returns and cash generation. The real long-term opportunity for us, however, arises from our business recovery programmes. We have clear plans in place for all of our divisions, and while there remains significant work to be done, our confidence continues to grow as a result of the progress to date.
"On behalf of the Board and our 120,000 employees, I'd like to pay tribute to Martin and thank him for his outstanding contribution to the company. Under his stewardship First has grown to become one of the world's leading transport firms."