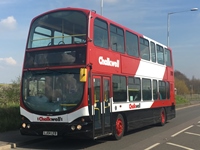 Sittingbourne-based Chalkwell bus and coach has purchased two double-decker buses with wheelchair access.
The two 04-plate Wrightbus Gemini-bodied VDLs, formerly of Arriva London, are to be used to carry children from the Isle of Sheppey to schools in Sittingbourne. The buses will also be specified with WiFi, allowing passengers to access the internet during the journey.
The vehicles were acquired from Ensignbus, which converted them from TfL spec to single door.
When not in use on school journeys, the double-deckers will operate on Chalkwell's local daytime network. This will include the revised 324 shopping service to Canterbury and revised 339 service to Hempstead Valley.
Chalkwell has also announced that from May 3, the 320/321 school bus services from the Isle of Sheppey to Sittingbourne will changed to be more direct. They will no longer serve Rushenden and Sonora Fields.
The 326 is to be extended on four journeys a day to serve Thistle Hill, Minster and Sheerness, providing islanders with the chance to catch a bus to Rainham, Gillingham, Medway Hospital and Chatham.
Chalkwell said the 7 service will discontinue in its current form, with other services covering the majority of points served. The operator is advising residents of the Swanstree Avenue estate to use the 344/345 service to get to and from town.
Service 8 is being revised to maintain the service to Woodberry Drive and Vincent Road. There are also minor timetable changes to the Saturday 326/327 as well as services 9/9K, 638 and 343.
Chalkwell Commercial Director, Roland Eglinton, said: "We are very pleased to be making this investment in our fleet and the changes to the 326 will provide better access from Sheppey to essential facilities including retail in the Medway Towns.
"Customers can purchase Adult Saver tickets from the driver for just £6 per day or £20 for seven days.
"These tickets offer unlimited use on our Kent and Medway network.  Discounted youth tickets are also available."