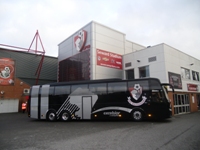 Excelsior Coaches has provided AFC Bournemouth with a Volvo 9700 luxury coach for travel to away fixtures.
Club striker Steve Fletcher led a ceremony on Saturday, November 12 to unveil the new look team coach at their home ground, Seward Stadium, before an FA Cup tie against Gillingham.
The design includes a black and silver wrap featuring the iconic profile of Dickie Dowsett, immortalised on the current crest in 1971.
The design is indicative of the club's professional and ambitious approach, and made its debut when the Cherries travelled to Wycombe on November 19.
Louise Wakeley, sales manager for Excelsior Coaches said: "We have a very strong relationship with AFC Bournemouth and have been supplying their transportation for almost five years. It is very important the team is able to travel to away games in comfort and style, and the branded luxury Excelsior coach is perfect for this. We are delighted with the new look and extremely proud to be working with them."
AFC Bournemouth manager Lee Bradbury said: "The new coach is something we're all very proud of."
When not in use by the team, the coach will be available for hire to attend home matches or other events on non-match days.
Call Excelsior Coaches on 01202 652 222 . Visit www.excelsior-coaches.com