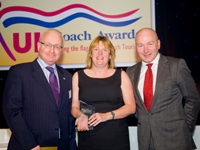 Excelsior Coaches MD Kathy Tilbury to star in a BBC documentary 
Kathy Tilbury, MD of award-winning Bournemouth-based coach operator Excelsior Coaches, will appear in a BBC documentary this autumn titled 'Women at the top'.
The programme focuses on the employment of women of a childbaring age and the effect maternity laws and legislation and maternity pay and time off has on small and medium businesses.
Hilary Devey, famous for being one of the dragons on television programme Dragon's Den, also features in the documentary.
Kathy told CBW: "This will definitely be good exposure for Excelsior Coaches. We spent the day filming onboard the coach and captured shots of the vehicle out on the road as well.
"Working with the BBC on a topic and documentary as important as this, which most businesses will have a common interest in will most definitely be viewed by many people."
Commenting on the significance of the programme content, Kathy said: "This topic is hugely important – women play an important role within businesses and some of the most successful people in business are female. This topic will generate a lot of interest and get people talking from all industries."
About working with Hilary Davey, Kathy added: "It was an absolute privilege to meet Hilary Devey, a woman who is so successful in business. I am sure she has come up against the same sort of issues I have faced myself working in a predominately maledominated industry.
"It was great being interviewed by her and the experience of the day as a hole was incredible."
'Women at the top' is due to air this autumn on BBC2 at prime time.
News of the documentary is the latest success for the operator, which recently managed to scoop three awards at the UK Coach Awards 2012. Not only did the firm win Top Medium Fleet Operator (16-50 vehicles), but it was also crowned Runner up UK Coach Operator of the Year. Furthermore, Excelsior won the ROSCO (Road Operators Safety Council) Award for Innovation in Road Safety, which recognised the company's support of the Under 17s Car Club. The latter enables under age drivers to practice driving skills legally and safely under supervised conditions.
Call Excelsior Coaches on 01202 652222. Visit www.excelsior-coaches.com