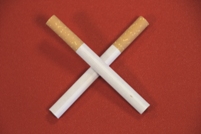 Reduction to 800 cigarettes and 1 kg of hand-rolling tobacco allowed
The CPT is informing operators of a change in the law affecting tobacco allowances passengers are entitled to bring into the UK from the EU.
Minimum Indicative Levels (MILs) changed on October 1, 2011, reduced to 800 cigarettes and 1 kg of hand-rolling tobacco, aligning the UK with levels elsewhere in Europe.
The UK minimum indicative levels were hitherto set at 3,200 cigarettes and 3kg of hand-rolling tobacco (HRT).
The change to the MILs was agreed in April 2011 in the renewed tobacco strategy 'Tackling Tobacco Smuggling: Building on our Success' and can be viewed on the HM Revenue & Customs (HMRC) website.
Latest available estimates for 2008/09 show revenue losses from illicit cigarettes and handrolling tobacco were approximately £2.2bn.
HMRC spokesman, Bob Gaiger said: "Law-abiding individuals who genuinely import goods for their own use will not be affected. This change will only affect individuals who are abusing the current limits to avoid paying excise duty on tobacco products which are subsequently resold."
Minimum indicative levels are guide levels set by EU Member States to determine whether imported goods are for travellers own use. There are no limits to volumes of tobacco travellers can bring back from the EU provided the goods are transported by them and are genuinely for their own use.
Further details of Traveller's Allowances can be viewed on the HMRC and UKBA websites. www.ukba.homeoffice.gov.uk and www.hmrc.gov.uk