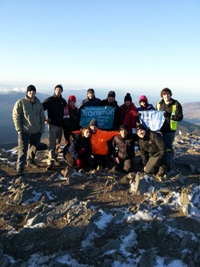 Drivers have raised £4,000 for When You Wish Upon a Star
A team of drivers from Nottingham City Transport climbed three peaks in three days to raise money in memory of their colleague, David Murden, who died of cancer last year.
The team of 10 men and one woman from NCT's award-winning Gotham Garage climbed Mount Snowdon in Wales, followed by Ben Nevis in Scotland, and lastly Scafell Pike in the Lake District before returning home to Nottingham.
Supported by NCT who donated fuel and the use of a minibus to get to the hills, together with a £200 contribution to the charity, local businesses Morrisons in Clifton and Freewheel Cycles in Hockley also provided kit and equipment for the fundraisers.
To date, the drivers have managed to raise an impressive £4,000 for When You Wish Upon a Star – the charity which aims to grant the wishes of children suffering life-threatening illnesses. This charity was chosen as it carries on from previous charity work undertaken by David Murden after his granddaughter died from Leukaemia.
Driver Rob Squires, who led the group on their climb, said: "It was tough, and incredibly tiring, but we were all determined to do our best for David's cause. He was a great guy, he's sadly missed, but this is our way of ensuring the memory of David and his granddaughter stays alive. The funds we've raised will enable more wishes to be granted for terminally-ill children, and I'm sure David would have been very proud of what we've achieved."