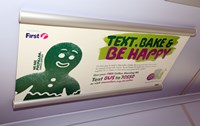 FirstGroup has donated more than £145,000 worth of advertising space on its fleet of 6,400 buses across the country in aid of Macmillan Cancer Support.
The donation will raise awareness of Macmillan's World's Biggest Coffee Morning this September, and is made as part of First's partnership with the cancer support charity.
The event will see thousands of people host coffee mornings in their homes, offices, and communities on Friday, September 26 to raise  funds for Macmillan.
FirstGroup employees hosted more than 40 coffee mornings in 2013 raising over £22,000. First hopes to beat that total this year with events planned at First depots and offices throughout the country, in addition to its donation of advertising space on buses.
Katie Smart, FirstGroup's Corporate Responsibility and Community Manager, said: "Every single First bus in the UK will feature a Macmillan coffee morning advert from September. We're pleased to help Macmillan reach our customers and hope our support will contribute towards a record breaking number of coffee mornings on September 26.
"First's three year partnership with Macmillan began in 2012 after our employees overwhelmingly voted it as our national charity partner. Our aim is to raise £1m in cash and kind by March 2015 – we're well on the way to reaching that target with almost £900,000 raised so far."
Sally Hill, Partnership Manager at Macmillan Cancer Support, said: "I'd like to say thank you to FirstGroup for its support of World's Biggest Coffee Morning this year. The advertising space on First buses will help us to reach out to many more members of local communities across the country who may be inspired to fundraise by holding a coffee morning. That combined with the money raised by First staff's own coffee mornings will help Macmillan to ensure that no one has to face cancer alone."
To register for a coffee morning go to macmillan.org.uk/coffee