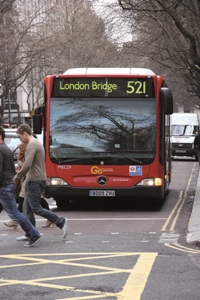 Revenue growth of 3.5% expected, bus operations both in and outside London "performing well" says Big Five operator
Go-Ahead Group plc is expecting to achieve revenue growth of around 3.5% for the first half of the financial year, it reported in a trading statement last week.
Announcing its pre-close trading update for the six months ending December 31, 2011, the group reported robust trading in bus and rail, with operating profit slightly ahead of board expectations.
The group's bus operations outside London have remained resilient in the period and passenger numbers (excluding acquisitions) have risen about 3% in the second quarter, helped, in part, by the company's continued rollout of smartcards. The increase in smartcard users has reduced the average yield per customer as passengers have taken advantage of the good value offered by period passes.
Total deregulated revenue (including the acquisition of Thames Travel) is expected to grow by over 5% in the first half of the financial year.
In London, mileage increased during the period as expected, due to new contracts beginning in the second quarter. Mileage growth of around 2% is expected for the first half of 2012. Go-Ahead expects a similar increase in revenue, despite lower Quality Incentive Contract (QIC) bonus payments compared to the first half of the last financial year.
Fuel costs remain fully hedged for this year at 41 pence per litre (ppl), in line with last year. The group is now around 70% hedged for 2012/13 at an average of 49 ppl.
Meanwhile, the group said its cash management remains strong, with net debt expected to be around £60m at the half year, slightly lower than at the end of the last financial year. Net debt to EBITDA (Earnings Before Interest, Taxes, Depreciation, and Amortisation) is also expected to remain comfortably within the group's target range of 1.5 to 2.5 times. Capital expenditure is also expected to be in line with expectations at around £35m for the first half and approximately £80m for the full year.
The group's future outlook is positive. "Although we remain cautious about the wider economic outlook, we continue to see robust performance across both divisions, leading us to expect group operating profit for the full year to June 30, 2012 slightly ahead of our previous view," said the statement.
"Our cashflow and balance sheet remain strong, underpinning our dividend policy, providing support in the event of a downturn in the economy and allowing flexibility to pursue further value-adding opportunities."
Commenting on the results, David Brown, group chief executive of Go-Ahead, said: "While we remain suitably cautious about the medium term wider economic outlook, trading in both our bus and rail divisions continues to be strong, with record numbers of passengers using our services.
This demonstrates the resilience of public transport during challenging economic times as passengers seek convenient and value-for-money alternatives to the private car.
"Our bus operations both in and outside London are performing well. Our sector-leading London business has seen growth due to new contracts commencing in the period, and our regional operations continue to make progress through initiatives such as smartcard technology."
The Telegraph newspaper advised investors "the main reasons to own (Go-Ahead) shares is for income, as they are yielding a prospective 6%. The shares were first tipped at £12.15 on June 11 last year and are now 13% ahead compared with the FTSE 100, down 6%."
Go-Ahead group boasts several award-winning operating companies in its fold, including konectbus, Brighton & Hove and Oxford Bus Company. For more information, visit www.go-ahead.com