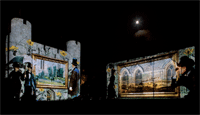 On December 10 and 11, from 1000 to 1600hrs, Caerphilly welcomes its Christmas Medieval Market. Lord Gilbert De Clare, his Knights and his folk take to the streets of Caerphilly before making their way to the castle, where an exciting array of battling knights, jesters, mummers and craftsmen will bring Christmas to life. Normal admission charges to the Castle apply.
As night falls on December 9, 10 and 11 at the castle, it will be bathed in light for a twice-nightly sound and light show, known as Illuminata. The show is supported by the £19m European funded Heritage Tourism Project, backed by £8.5million from the European Regional Development Fund, and reflects the fascinating history of the iconic stronghold.
Four eras of Caerphilly's long history will be displayed on the castle's four walls during the show, spanning eight eventful centuries. The film showings are at 1730 and 1830hrs and entry is free. Following each Illuminata showing, the Castle's Great Hall hosts a banquet from 1930 to 2300hrs, priced at £30 per head. Booking early is recommended as numbers are limited.
For further information please contact Rhodri Ellis Owen at Cambrensis Communications on 029 20 257075 or [email protected]