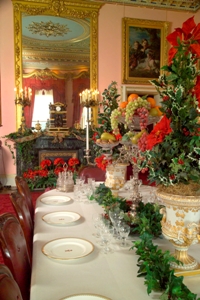 QueenVictoria's favourite 'tableaux vivants' are to be on show over the Christmas season at Osborne House, the private home built for the queen on the Isle of Wight.
In the 19th century, members of the royal family and their staff used to entertain themselves by dressing up in special costumes for performances of 'living pictures', an important part of the seasonal celebrations.
From November 23, visitors will be able to see the projected photographs when the house is decorated for Christmas in traditional style and with some of the gifts and cards given to QueenVictoriaon display. There will also be guided tours explaining how Victoria and her family spent Christmas at Osborne.
The house, which was extensively rebuilt for Victoria and Prince Albert, is widely known asVictoria's favourite retreat. Marble sculptures commissioned by the royal couple line the classical Grand Corridor, portraits and frescos adorn the walls, and the richly decorated Durbar Room celebrates Victoria's role as Empress of India. The House's grounds include formal terraced gardens as well as a miniature fort and barracks for the royal children and a Swiss Cottage where they could learn domestic skills.
A Victorian Christmas weekend with sideshows, singing chimney sweeps, traditional Victorian fairground stalls and visits from Father Christmas and a mock 'QueenVictoria' takes place on 19 and 20 November.
After Albert died 150 years ago,Victoriachose to spend Christmases at Osborne House with her nine children. Her mourning for Albert's death softened over the years and Christmases became cheerful with decorated trees, gifts, cards, a lavish celebratory meal and the elaborate 'tableaux vivants'.Victoria died at Osborne 22 January 1901.
The Osborne House Christmas decorations are on display from November 23 to January 8, Wed–Sun 1000–1600hrs. The Victorian Christmas weekend takes place from November 19 to 20. Visit www.english-heritage.org.uk/osbornehouse