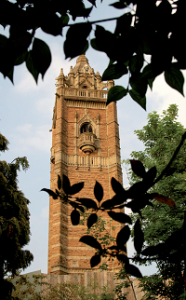 Tower offers views of city after restoration and repair work
Visitors can once again climb up the historic narrow stairway of Bristol's Cabot Tower after re-opening to the public in August.
Cabot Tower offers views of the city and landscape beyond and was closed in November 2007 after cracks were found in the iconic Victorian structure and masonry. Around £400,000 has been invested in specialist repairs to the tower.
Major works to the tower included: identifying the cause of the cracking; stabilising and containing the movement of the tower; appointing a specialist architect and contractors with the skills and expertise in historic building conservation to undertake the work; consultation with English Heritage to identify a planned programme of works; creating a 'cage' of scaffolding around the tower during the works; and restoring the earthworks and Civil War fortifications around the foot of the tower.
"I am really pleased to see Cabot Tower open again," said Simon Cook, Bristol's executive member for capital projects. "Cabot Tower has a very special place in the history of the city and it was vitally important any restoration works undertaken were correct. Our investment in this historic monument underpins our commitment to caring for Bristol's landmarks."
Andrew Vines, planning director, English Heritage South West, added: "It's wonderful to see Cabot Tower open to the public again. The iconic Tower is looking splendid and stands as a reminder of Bristol's link to its rich maritime past and its place in the world."
Simon Cartlidge of Simon Cartlidge Architects, said: "So many people in Bristol have been eagerly looking forward to Cabot Tower's reopening. The work has been quite specialised with attempts to discover the original Victorian detail and methods of construction. I'm confident the restoration and repairs we have put in place will stand the test of time."
Cabot Tower is open to visitors every day apart from Christmas Day & New Year's Day and entry is free.