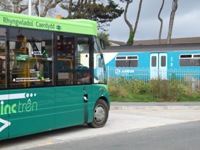 The Welsh transport scene is changing – and now the National Assembly is debating an Active Travel Bill, more of which in a future issue. The Welsh Government is driving forward with proposals for better integrated public and sustainable transport, together with greater collaboration between key stakeholders, while the effects of the recession and reduced funding are widespread.
The Transport Solutions Wales seminar is organised by CILT Cymru, with support from the National Assembly of Wales, Welsh Government, not to mention regional transport consortia Sewta, SWWITCH, Taith and Tracc.
The event is aimed at transport practitioners, planners, engineers, managers and researchers drawn from central, regional and local government, operators, consultancies, academia and the health and third sectors. There is a need for Welsh transport researchers and practitioners to share knowledge and to learn about successful initiatives which can be adopted, and the seminar provides a focused and low cost opportunity for furthering professional development. It will comprise plenary sessions in the morning and afternoon, with parallel themed sessions before and after lunch.
CILT Cymru is inviting abstracts, no longer than 300 words, with abstract title, and name, position/ affiliation & contact details as well as brief (up to 100 words) biographical information of the author(s) included.
Papers are welcome on all topics across the broad spectrum of transport and papers related to current transport issues in Wales are particularly welcome. Suggested categories include: Integrated public transport; Active travel; Delivering more with less; Bus, rail & highway success stories; Transport in City regions; Rural transport; Land use & transport planning; Transport & new technologies; Marketing, design, communications and Road safety.
Papers will be selected by CILT together with representatives of the partner organisations. Closing date for abstracts is February 13. This free of charge seminar takes place on May 2 in Cardiff Bay.
Abstracts should be sent to Margaret Everson, [email protected] .