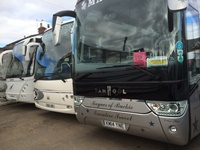 FirstGroup's Rail Support business won a contract to provide around 260 coaches during the 2014 Ryder Cup at Gleneagles. With the assistance of numerous independent coach operators, First provided transport for Ryder Cub officials, the media, sponsors and VIPs. It also ran coaches for most of the event's hospitality packages. The operations commenced on Monday (September 22) and finished on Sunday (September 28), transporting an estimated 10,000 passengers in total.
Operators from across the UK were involved – including Grey's of Ely and Lucketts of Fareham. One of them, Kevin Mayne from Maynes of Buckie told CBW: "It was a great effort from all the drivers and companies. I would particularly like to thank the guys at Dochertys for being friendly and helpful during our time there."
Antonia Beggs, Operations Director for Ryder Cup Europe, said: "First has a track record of providing transport solutions at major events and we're especially delighted to have on board a company whose roots are firmly placed in Scotland."
Managing Director of First Bus, Giles Fearnley, said: "We are proud of our Scottish heritage and the important role we play connecting people and communities up and down Scotland every day.
"We've got a great team working on our Ryder Cup contract and have been planning for the event at Gleneagles for almost a year. The Ryder Cup is one of the world's leading and most popular sporting occasions so it is really exciting to be involved."
In addition, Stagecoach provided over 200 buses for the three park and ride services at Perth (North), Balado (East) and Stirling (East).
Whilst Stagecoach East Scotland managed the whole operation, and provided a significant number of buses from its own fleet, vehicles were brought in from across UK Bus to assist – as is standard when Stagecoach is involved in a major event.