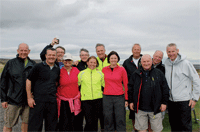 £11,000 raised in aid of a Teenage Cancer Trust appeal
Last weekend saw the Volvo Bus Executive Group successfully complete a gruelling 137 mile, coast to coast challenge between Whitehaven and Tynemouth in aid of Teenage Cancer Trust's Warwickshire Appeal. So far the challenge has raised an amazing £11,000 with further donations expected to help reach the target of £15,000.
The challenge, which began last Wednesday, September 7, saw the Volvo Executive Group: Steve Dewhurst, Nick Page, Phil Owen, Andy Kunze, Ian Downie, Gordon Reid, Sally Parkes and Volvo Trucks managing director Göran Nyberg, along with Volvo Truck & Bus Dealer MDs Martin Merrick and Jim Collins, cycle and walk the 137 miles route over four days.
Despite sore limbs and a fair few bumps and scrapes along the way the challenge was an overwhelming success with everybody in the team completing the full 137 miles.
"The first 53 miles cycling to Penrith seemed like it was going to be the hardest bit," explained Steve Dewhurst, Volvo Bus MD. "In reality we hadn't even got started, but everyone pulled together and it was fantastic to arrive in Tynemouth knowing we'd achieved what we set out to do".
"We are delighted by the money raised through this coast to coast challenge, as it takes us one step closer to achieving our target of raising £100,000 for Teenage Cancer Trust by the end of 2011".
"I'd like to say a huge thank you to everyone in the industry for once again showing us their support this year with our various fund raising initiatives," explained Steve Dewhurst.
One of the biggest challenges the team faced was the wet and often blustery weather, with Volvo Bus Sales Director Phil Owen even sent tumbling from his bike on one occasion. Resilient to the end, Phil picked himself up and completed the challenge with the rest of the team.
"Everybody was so keen to complete it and enjoy the experience," continued Steve Dewhurst. "It's such a worthwhile cause and one which genuinely does make such a difference to the lives of young people".
The Teenage Cancer Trust helps to build specialist units in NHS hospitals where young people with cancer are treated alongside others their own age, in an environment best suited to their needs. The charity believes that teenagers shouldn't have to stop being teenagers just because they have cancer.