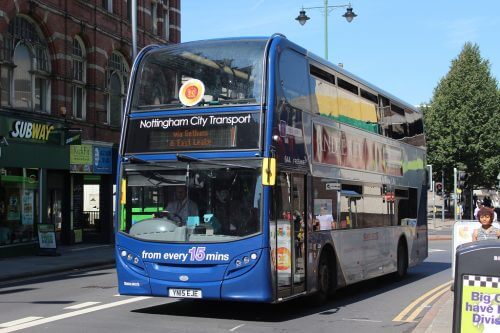 Billed by The TAS Partnership (TAS) as a "rising young star," Matthew Moll has been promoted to the role of Senior Consultant. Dominic Ward caught up with Matthew to find out more about him
Ifirst heard of Matthew when I covered the Young Bus Manager's Network event in Oxford (CBW1315). Although unable to attend, I received word after the event that Matthew had been promoted within TAS (CBW1316).
TAS, as its website states, provides high quality and robust research, as well as analysis and advisory services to the passenger transport sector, and has done so for over 25 years. Matthew joined as a graduate, and has now been promoted to Senior Consultant, but his love of transport is something in his blood.
Background
Matthew's passion stems from his father: "I've always been interested in transport – something I inherited from my dad. I suppose it was the railway side of things that first grabbed me and that I originally wanted to get involved in.
"It's been an underlying interest. Growing up in Cottingham, just outside Hull, East Yorkshire Motor Services (EYMS) was the local operator I grew up with. They're a different type of company to ones you get elsewhere in some ways, I think. We used to travel around on the bus quite a bit. Then, when I was at university, I became more interested in the bus side of things."
Matthew went to the University of Huddersfield and studied Transport and Logistics Management – setting him on the path to where he is today. As part of his course, Matthew's year in industry was spent with TAS, followed by a six-month work experience placement with EYMS. "I was pitching in with anything and everything at EYMS really," said Matthew. "They were very good to me – I got to experience so many different aspects of the operation. I worked mainly with Bob Rackley, and did some scheduling, sat in the control room at Hull Interchange for a while, and carried out passenger surveying for them. I also undertook fares reviews. So a varied look and, I guess, a two-way benefit really – they obviously gave me the experience in different roles, and I was able to use the skills which I'd developed at TAS originally to help them in return.
"I did about five months on secondment at Abellio Rail Replacement (North) in York. They'd just taken over the contract, for the old Northern Rail, so it was Abellio Serco. That was quite a challenge. I was part of the team in charge of control co-ordination, sat alongside members of Northern Rail, and obviously reacting to their demands and requests. I went in without much experience in coaching, and it was interesting to get to know different coach operators, and experience the various ways they work to bus operators.
"Then there was the completely different world of the rail industry. You slowly learnt who to phone and when – there's certain companies, especially around the Cumbrian coast and the North East that you knew were the people to get in touch with because you could rely on them. It was an enjoyable experience despite the challenges" […]
By subscribing you will benefit from:
Operator & Supplier Profiles
Face-to-Face Interviews
Lastest News
Test Drives and Reviews
Legal Updates
Route Focus
Industry Insider Opinions
Passenger Perspective
Vehicle Launches
and much more!