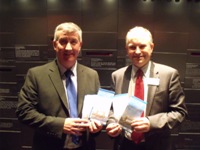 CPT and TfL have produced and launched the 2013 version of the London Coach Parking Map.
The map, now in its tenth year, details information on the location, availability, cost and booking requirements of coach facilities in central London (also Docklands, Greenwich and Woolwich). It also features parking locations near London's main tourist attractions.
An interactive version of the map, which includes real-time information on planned roadworks, details of public events, traffic updates, CCTV images and images/ accidents, can be accessed online at www.tfl.gov.uk, with hard copies available from CPT.
CPT President Malcolm Robson said: "It is a great example of what can be achieved when organisations work in partnership. I see this map as a must-have for all involved with the coach industry."
Peter Bradley, Chairman of the London Coach Forum, added: "The London Coach Parking Map continues to help operators and drivers gain a better understanding of how to use the coach parking and driver facilities in the capital."