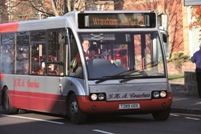 CPT Wales is calling on the Welsh Government to find an alternative to the 25% cut in BSOG, which is due to take effect from April 1 – and which was imposed with less than 10 weeks' notice.
In a letter sent to Carl Sargeant AM, Welsh Government minister for local government communities and transport, CPT Wales' director of government relations John Pockett writes: "I set out below our response to your invitation to suggest alternatives to the 25% reduction in BSOG. The cut of 25% in BSOG is entirely deferred for 12 months.
In that period CPT Cymru will actively and fully participate in the tripartite steering group whose aim will be to review the future overall funding for the bus industry in Wales, as outlined by your officials at today's meeting.
"We believe this will enable the industry to remain in a stable position for the benefit of its passengers whilst the transition to a new funding regime is fully discussed and, hopefully, mutual agreement reached.
"Because of the strict time constraints to which the industry is required to adhere by the authorities, particularly for service registrations/deregistrations, may I respectfully suggest a prompt reply is of the essence if any cuts to services are to be avoided as a result of the reduction in BSOG and would therefore ask that you give this matter your urgent attention."
Mr Pockett told CBW: "We want to continue a dialogue as far as possible but we're of the view that any measure to help for 2012-13 must be tied in with discussions on the long-term replacement of BSOG and LTSG. We hope the minister will respond promptly."