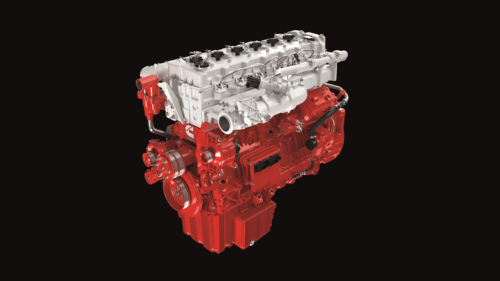 Cummins has announced that it has joined the Hydrogen Engine Alliance, an initiative bringing together industry representatives across Europe to support the research and development of sustainable hydrogen internal combustion engine technology.
Cummins already has experience in developing and manufacturing internal combustion engines, as well as in hydrogen fuel cell, battery
electric and drivetrain component technologies. The company recently announced the development of a fuel-agnostic engine range which
will include hydrogen internal combustion engines in 6.7 to 15 litre displacement for both on-road and off-road applications. In addition,
Cummins' joint venture partnership with hydrogen storage specialist Nproxx adds an additional resource in terms of integrating hydrogen
engines with on-board gas tanks and the vehicle's fuel supply system.
Jonathan Atkinson, Cummins Executive Director for On-Highway in Europe commented, "We are delighted to participate in the Hydrogen Engine Alliance and look forward to working together with fellow members to advance decarbonisation of the power industry. Internal combustion
engines are efficient, robust and can operate continuously under heavy load – attributes that will carry forward with hydrogen fuel. These
advantages, combined with CO2 neutrality, means hydrogen has the potential to play a significant role in decarbonising both commercial and
industrial applications."
The company says that hydrogen engines represent a development of a long-standing, proven technology – the internal combustion engine and the reciprocating piston principle – which could enable faster deployment in a broader range of markets and applications. In addition, it believes the potential for rapid refuelling increases vehicle and machine availability and further supports implementation across multiple use cases.
Alongside Cummins, the Hydrogen Engine Alliance comprises major automotive companies, industry suppliers and academic institutions including Bosch, Daimler Truck and Karlsruhe Institute of Technology. The founding of the Alliance in January 2022 was said to demonstrate
the importance of the hydrogen powertrain market and its role in a more sustainable future.
Cummins' commitment to advancing hydrogen engine technology is part of its Destination Zero strategy, the company's pledge to support carbon emissions reduction through a broad range of power solutions. As well as its development of zero and low carbon powertrains, Cummins is making progress in hydrogen fuel production, with its electrolyser technology already in use across Europe and North America.