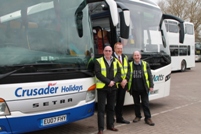 Popular radio personalities Ken Bruce (BBC Radio2) and Steve Madden (BBC Radio Berkshire), co-directors of ThisBus.com have just completed their Driver CPC qualification, having spent five days in the classroom at the Motts Travel Training School, under the stewardship of Darrell Minett, Motts' Training Manager.
Being at the helm of the Routemaster operator in conjunction with their more public 'radio' lives meant taking DCPC instruction for the complete 35 hours at once was essential and Motts provided the perfect solution.
"We have had a most enjoyable week and have felt very much amongst friends. It's nice to do business with such a professional and friendly firm. We would particularly like to thank Darrell for being so engaging," said Steve.