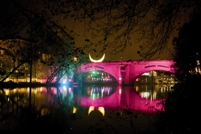 Durham is to host a free festival of light and art from November 17-20.
The Lumiere festival uses artworks made from light to transform the city's landmarks, streets, river and bridges. This year's festival will include new works by internationally renowned artists as well as commissions from local artists and creative people.
The festival is produced by Artichoke, the creative arts company who directed the Dining with Alice Victorian feast in Norfolk this year and stopped traffic in central London in 2006 with the Sultan's Elephant.
Simon Henig, Leader of Durham County Council said: "We are delighted to be working again in partnership with Artichoke as they have such a strong track record of producing live events that leave a lasting impression on the people and places they transform."
Helen Marriage, co-director of Artichoke, said: "In choosing the programme for Lumiere, I visit festivals all over the world. I am struck by how the simplest idea, the smallest intervention, often has the greatest impact."
This is the second Lumiere in the cathedral city. The first in 2009 offered more than 20 artworks, projections and performances, and an estimated 75,000 people came into the city over the four festival nights.